Hokan Bowls are a multi use kitchen aid. Cook in them, store food in them, serve from them at the table and eat from them. 
We have designed them to look and work great, so that you can use them in any situation and they even look good if you keep them out on the kitchen work surface or up on the shelf.
To save space in the fridge, when storing leftover food to reuse or pre prepped food for the next meal, they are designed to stack one on top of the other, solidly interlocking together for stability and peace of mind that nothing is going to tip out.
The volumes of each bowl are determined by their height, which keeps all of the lids the same size for each bowl, so no need to be searching through the kitchen for the correct lid – they all work. You can even use the lids as a side dish, to hold accompaniments to the meals that you are serving.
Made from stoneware and fired to 1100 degrees centigrade in deep colour glazes, Hokan Bowls are made in a centuries old tradition, keeping your food safely and free from any plastic or other chemical interaction. Stoneware is the most durable of all the clays and make for a robust kitchen implement for every day use.
You know that having bought your Hokan Bowls you will feel the good conscience of not contributing to the throw away cycle of modern day products. The Hokan will last and last, giving great service for yours without breaking down or becoming obsolete.
The all in one design of your Hokan Bowls provide for many different uses meaning you can use them instead of other one-use-only kitchen pieces saving you money and space and giving you great service for yours to come..
We have endeavoured to make Hokan a premium product that will look great in your kitchen and on the table but also compare with the similar lines from Le Creuset, but work in the same way as the disposable and planet damaging products like the plastic Lock Tite and Tupperware. We have also made sure that we have priced them to make them affordable, and that they can be bought in stages, because after all we want them to be used so that more food can be saved and our lives be more conscientious and efficient.
We have customers who have said it more succinctly that we could ever do, and here is a selection of the wonderful feedback Hokan Bowls have received: 
"I'm planning on collecting Hokan Bowls in all colours of the rainbow 😊"
  – Anna Maria M. F. Smekens
"Received a set of these as a wedding present and have used constantly since – super practical and super stylish; perfect cook-to-tableware that's great for storing leftovers too."
  – Carrie Gardner
"I love these bowls and use them all the time. They are so practical, look nice and are great how they stack in the cupboard and fridge. I gave a Sea Green set to my son and girlfriend as a moving in present to a new flat – they love them too."
  – Ann Nicholson
"These bowls are a dream! Beautiful quality and gorgeous colours and the most useful items I have in my kitchen. They are so versatile for cooking, serving and storing. I love how they stack neatly in my fridge – saving space. What a pleasure to say goodbye to plastic containers and replace them with such a thoughtfully designed item. They also make wonderful gifts. I recommend buying all three sizes!"
  – David G.
"Excellent multi use product, aesthetically beautiful, so simple but so good."
  – Ceri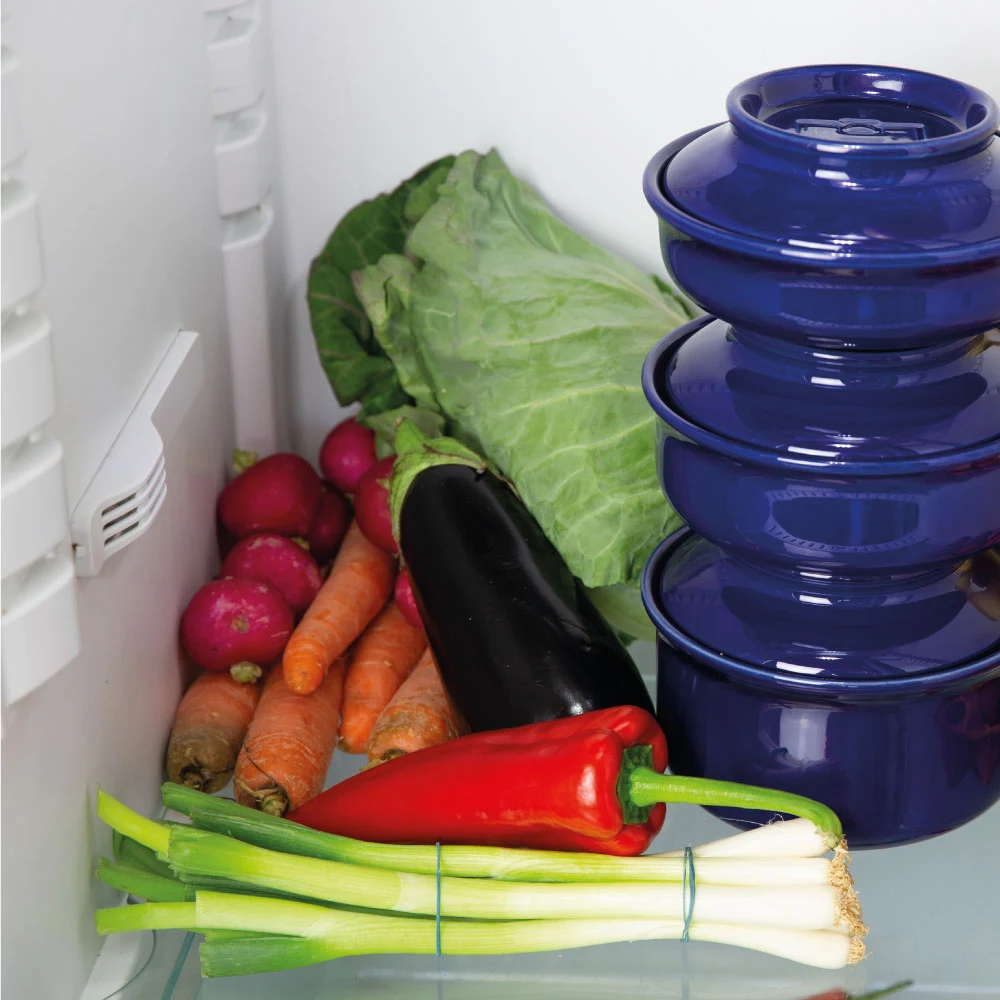 Washing your Hokan Bowls is simple. Just put them straight into the dishwasher. If you have used them in the oven and food has become a little baked-on, then just soak them in soapy water and take the worst of it off and then continue to the dishwasher. The high fired glaze of molten glass will easily protect from any food burnt on.
As with any stoneware product, although it has been fired to 1200 degrees centigrade in the kilns, it cannot be put on or under direct heat sources like a gas hob or under a grill. This is because of the thermodynamic nature of the fired clay which will absorb total all-around heat (and cold in the freezer) but it cannot transfer heat changes when a particular part is heated at one time, it will crack along the heat/cold line.
From freezer, to oven, to table and back again
That said, you can use the bowl straight from the freezer and fridge to the oven. Cooking and baking with the lid on will keep moisture in and the temperature stable, and if taken off it will allow the top surface area to crust or brown.
When taking to the table always ensure that the table or counter surface is protected from the heat of the Hokan Bowl.
We have worked very closely with a magnificent factory in Portugal called Grestel Cerâmicos who have been making stoneware and other ceramics for many, many years. Portugal is renowned the wotld over for its clay and technical abilities to produce ceramics. Across the country they have colourful ceramic tiles covering the majority of their homes and buildings! It is a great reflector of the suns rays and heat. Their technical team ensure that we get the very best out of our designs so that you can benefit from any improvements and quality control of what you buy. Recently we have been most excited that Grestel is producing what we have called the Reconstructed' Stoneware Range where production misfirings, the seconds and accidents that inevitably happen, is turned into a new clay that is saved from the land fill waste dumps, and used to make more Hokan Bowls.
The specifications of the the bowls are as follows;
Small
---
Height (both)  84 mm
Bowl 58 mm
Lid 33 mm
Diameter Bowl 157 mm
Lid 142 mm
Weight (both) 625 g
Bowl 390 mm
Lid 230 g
Bowl and box 680 g
Volume 400 ml / 2 cups
Medium
---
Height (both)  96 mm
Bowl 69 mm
Lid 33 mm
Diameter Bowl 157 mm
Lid 142 mm
Weight (both) 695 g
Bowl 420 mm
Lid 230 g
Bowl and box 810 g
Volume 600 ml / 3 cups
Large
---
Height (both)  126 mm
Bowl 99 mm
Lid 33 mm
Diameter Bowl 157 mm
Lid 142 mm
Weight (both) 880 g
Bowl 630 mm
Lid 230 g
Bowl and box 990 g
Volume 1000 ml / 6 cups