Towards a zero-waste lifestyle with beautiful Hokan bowls
2 Votes

by Emily Wheeler Interiors
image credit: Emily Wheeler

As you might already know, I've been trying to reduce the amount of plastic we bring into our home by buying refillable laundry products, wooden washing up brushes and switching to hand soap instead of bottles. So you can imagine how much I love these stylish Hokan bowls, which you can take from the oven to the table and then use in the fridge, meaning no more plastic storage boxes.
image credit: Emily Wheeler

Designed by Alistair Donald, whose father is a renowned jewellery designer, the bowls are beautifully crafted from sustainable stoneware and are tough enough to last a life time. Motivated by a desire to cut down on food waste and put an end to precariously balanced saucers of leftovers in the fridge, Alistair has designed a stylish set of bowls with lids that can go in the oven, are attractive enough to serve at the table and then can be stacked neatly in the fridge to save leftovers.

The word 'Hokan' means 'safekeeping' in Japanese and Alistair has designed the bowls with this in mind for food. With an ethos of conscientious cooking, compassionate and efficient living (right up my street), he has designed them to be multi-functional, robust and as aesthetically pleasing as they are eco-friendly.

The bowls can be used to bake and roast food in the oven and are microwavable and dishwasher safe. Because the interchangeable lids fit securely, the bowls stack neatly on top of each other and leftovers to be stored without any smell in the fridge and without nasty chemicals leaching out of plastic containers. As kitchens get smaller, space saving designs like this are becoming essential because they reduce the number of pans and storage tubs we need to buy as well as reducing food waste. Motivated by his quest to live a zero-waste lifestyle, Alistair has created the ultimate in functional yet beautiful design.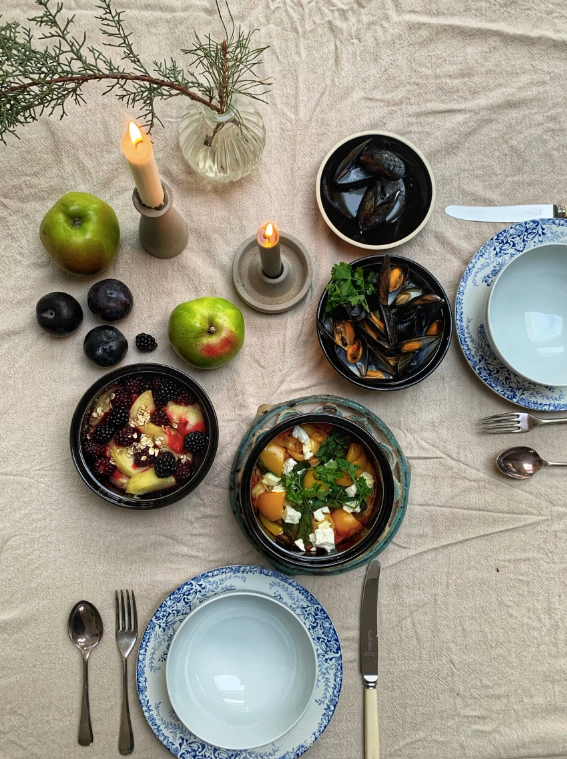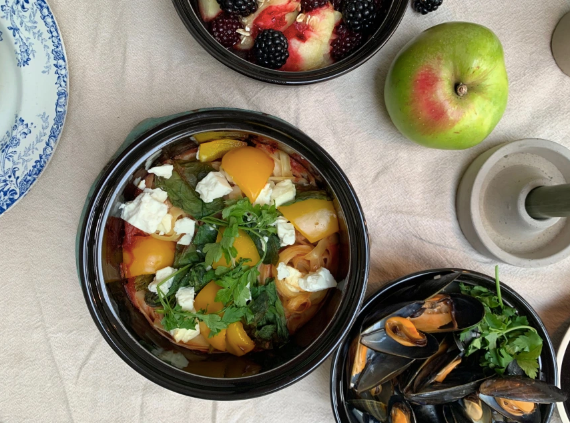 image credit: Emily Wheeler

Hokan bowls come in Pitch Black, Antique White, Cobalt Blue, Sea Green and Lemon Yellow. I was kindly given a set of Pitch Black, which we have used daily since they arrived, using them to cook Mediterranean vegetable bakes, fruit crumbles and even mussels; taking them from preparation to oven to table, and then into the fridge for leftovers. Now even the inside of our fridge is carefully considered thanks to the bowls' elegantly sculptural shape.

Hokan are launching new ranges of stackable rectangular oven dishes soon as well a range of sustainable, upcycled textiles including oven gloves, aprons, tea towels and cloth bags to store vegetables in (did you know root vegetables last longer stored in a cloth bag?). I have a growing collection of the bowls but can't wait to get my hands on the vegetable bags and table cloths too.

If you fancy adding a set of gorgeous zero-waste Hokan bowls to your kitchen, I have a discount code especially for you. Just enter the code HokanEW15 to get 15% off your order (valid 7-23 February 2020).
image credit: Emily Wheeler

click here to view Emily Wheeler Interiors blog